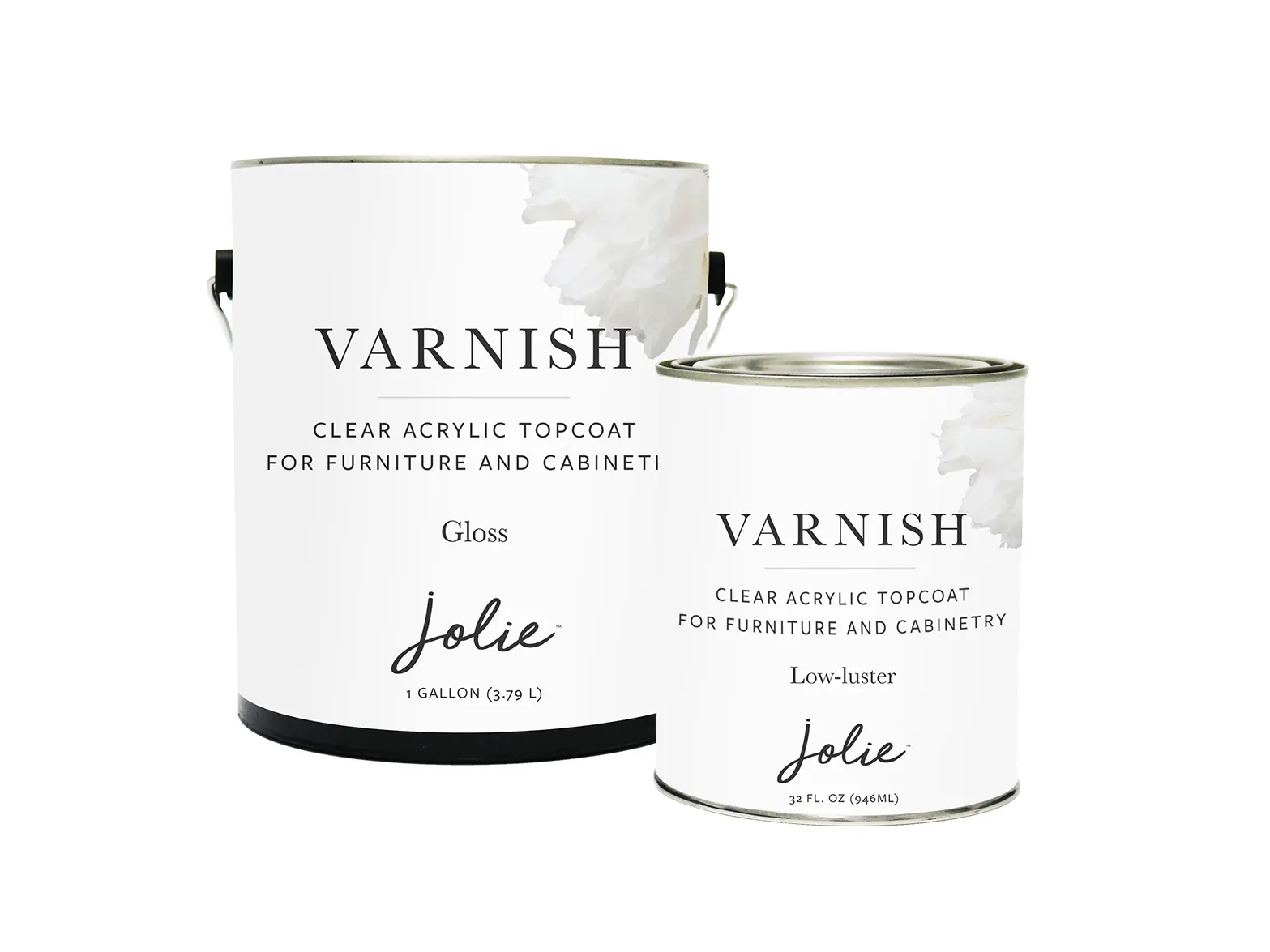 With all of this year's craziness, we haven't formally introduced one of Jolie Paint's newest products… Jolie Varnish! We've heard time and time again that our customers want a product to use instead of wax for their top coat, and this is it!
Jolie Varnish is a clear, water-based acrylic topcoat that creates a long-lasting finish on furniture and cabinetry. Available in two different sheen levels, low-luster and gloss, it is perfect for projects that require a higher sheen. While the low-luster doesn't have as high of a sheen as gloss, it is not as matte as wax.
This varnish is non-yellowing and contains self-crosslinking resin for greater durability. It is an easy to use alternative to a wax topcoat on Jolie Paint, stained, or raw wood. While it is is more durable than wax, pieces top coated with varnish should not be placed outside where it will be directly exposed to the elements. Jolie Varnish is not suitable for floors, unprotected exterior surfaces, or waxed surfaces.
For best results, apply 2-3 coats of Jolie Varnish with a synthetic bristle brush, such as a Jolie Flat Brush, a sprayer, or a low nap roller. For further instructions on how to apply, follow this link here.
Above are an example of each level of sheen. The super cute chair showcases the sheen in gloss from the blog Me and Mrs. Jones, and the bathroom cabinet shows the sheen in low-luster from Carolina Cottage Furniture.
Stop by the shop in Falls Church, VA to find out what will work best for your next project!
Visit Us! Stylish Patina 410 S. Maple Ave #114 Falls Church Va 22046 / Shop@stylishpatina.com / 703.663.8428 / Instagram @stylishpatina / Facebook @stylishpatinashop